Your Community Name*: Post-Nuclear Pirates
Your RP Name*: Jonathan
Your SteamID*: STEAM_0:0:19694022
Picture of your logo*: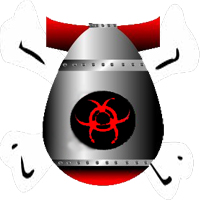 (I don't know why the background is white in the picture but it was transparent when I saved it.
Color of your community: Mahogany (#C04000)
Date your community was founded*: Definitely more than three months ago but the date is unknown.
Members in your community*: Rebecca, Sad Panda, Grace, R.P.McMurphy, and Rittz**.
General wealth of your community (Wealthy, average, poor): Average
Sum up the goal of your community*: Our goal is to establish a strong trading network that is reliable and affordable. We also want to be the richest pirates in the seven wastelands.
General Description of your community*: We are a community with multiple talents. Trading, mercenary work, protection, and, for our enemies, raiding and torture.